"Winners don't Quit. That's why they Win."
This quote by Mike Brescia makes an inspiring and Motivational Message to have as a poster to remind you the truth when you want to quit!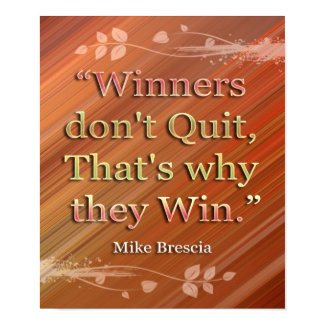 Winners-Motivational Message Print
by
semas87
Be a
art affiliate
with Zazzle.
More quotes on winning....
Picture yourself vividly as winning, and that alone will contribute immeasurably to success.
It takes but one positive thought when given a chance to survive and thrive to overpower an entire army of negative thoughts.
~ Robert H. Schuller
Books to help you win....
How to Win!
How To Win Friends and Influence People
The Success Principles(TM): How to Get from Where You Are to Where You Want to Be