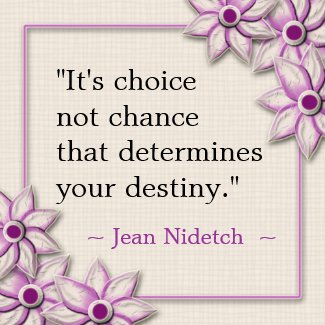 Choices-Inspirational Quote Magnet
by
semas87
Browse other
Quote Magnets
Today's design for the letter C is an inspiring quote on choices.Choices not chance determines the course of our day and our lives.We have the choice to choose our reactions to the incidents in our lives.
"It's choice - not chance - that determines your destiny."
~ Jean Nidetch ~

It's my choice!We can see difficulties as a hurdle or as an opportunity to grow .Our actions based on our choices will lead us to success or failure .
Quote Magnets
are great message magnets that help to motivate you in an easy manner and the quotable quotes magnets also make great inspirational gifts.
Related Books Of Interest
Choices: Taking Control of Your Life and Making It Matter
Choices: For Women Who Long to Discover Life's Best